MESSAGE FROM THE CHAIRMAN OF THE BOARD
MESSAGE FROM THE CHAIRMAN OF THE BOARD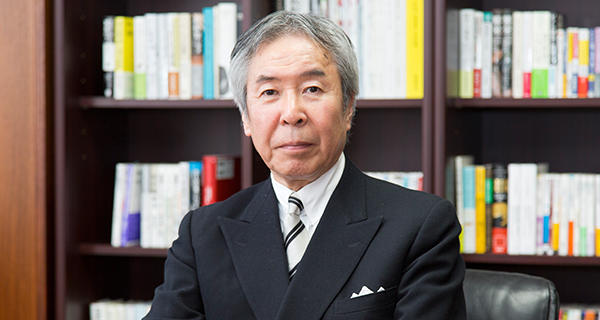 Chairperson of the Board of Director
IKEKITA Masahiko, Ph.D.
Sanyo-Onoda City is a cozy, compact place in Yamaguchi, the westernmost prefecture of Japan's main island, Honshu. The city is full of smiles. "Smile-City," the city's nickname, celebrates its lively and welcoming atmosphere. Sanyo-Onoda City University, also known as "SOCU," resides in Smile-City, accommodating highly ambitious students and producing talented graduates. Close ties with colleagues and the local community constitute ideal environments for a successful and fruitful life for the students.
We are particularly cautious about rapid changes in the current global socioeconomic circumstances. Advances in information technology sharply expedited the dynamism among people, goods, and capital beyond borders, and once led the world to globalization. Technology giants, such as Google, Amazon, Facebook, and Apple, swiftly dominate almost every corner of the market. However, augmented economic inequality, emerging nationalism, the US-China trade war, the Brexit divide, and the unforeseen lightning spread of COVID-19 emerging at the beginning of 2020 now quickly deglobalize the world. On its own, Japan is struggling with the issues of a sharp decline in the overall population, accelerating aging society, exponentially inflating national debt, and a series of unprecedented natural disasters due to climate change.
Our engineering and pharmacy schools together conduct synergetic and cutting-edge research and sophisticated, specialized, and professional training and education for the students to tackle uncertainty. Our graduates are thereby ready to proceed for the unforeseeable future and build a novel "wellness society" in Sanyo-Onoda City, Yamaguchi Prefecture, and beyond.
Together with the university's faculty and administrative members, I focus on designing a robust strategic plan to set a financial foundation to establish and maintain a sturdy educational platform. Indeed, we allocate budget to education and research more directly than other typical Japanese institutions. We also strictly enforce our legal, regulatory, and ethical compliance management, especially in educational practices. Thus, our university is readily trusted and counted on by the students, the guardians, and the community.
This is the place where students come, acquire outstanding knowledge and skills, and eventually go out into the world as superb human resources. We are greatly looking forward to fostering valuable interhuman relationships adding a great sense of meaning to life here at Sanyo-Onoda City University.